Product Information
Hand Strap / Lanyard
We design and produce a range of straps for carrying cellular phones, measuring instruments and tools.
HAMILON produces not only mobile phone strap and lanyard but also strap for camera,tools,blood pressure monitor etc..
We can print company name or logo mark on lanyard or strap.
So you can use them for sales promotion products.
About Hand Strap / Lanyard
Application
mobile phone
Camera
neck lanyard for ID card
barcode reader
Tools
portable navigation system
Pedometer
MP3 player
industrial handheld terminal
Products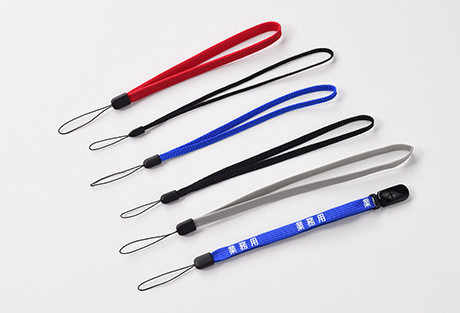 hand strap
The most standard type of straps offering anti-drop solutions for mobile devices, digital cameras and industrial tools.
The length can be specified to meet your unique requirements and small-lot and customized orders are also accommodated.
Upon requests from our customers, we will also accommodate their need to use environmentally friendly materials.
All of our products are manufactured in Japan to ensure a stable supply.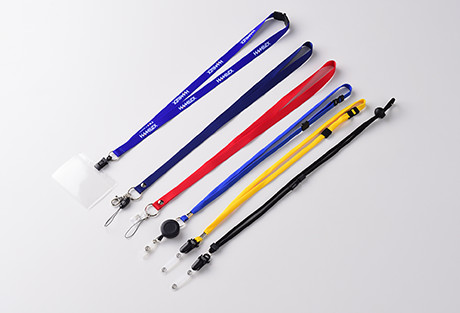 neck strap
Neck straps suitable for the use in offices and event venues.
Customized orders are accepted for orders more than 100 units.
Customers can choose from a range of tape types, widths, colors and parts to create an original combination and various name printing options are available including screen and full-color printing.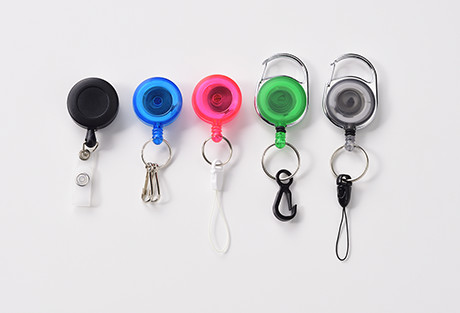 reel key
This most practical type of straps features a retractable strap that can be stored when not in use, offering a solution for those who are tired of losing their keys and wallets.
A range of options including stylish clear colors and clips are available to meet customers' unique purposes.
Merchandize stickers are also available.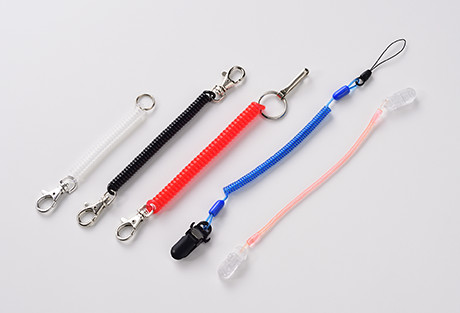 coil strap
Coiled urethane and EVA resin straps.
Various parts for both ends are available for an original combination.
The extendable coil is suitable as an anti-drop/safety solution for industrial tools.
Straps using a metal wire core or a phosphorescent material are also available for enhanced strength and visibility.
Straps introduced here are only examples and
can be customized to meet our customers' unique requirements.
Please contact us for details.