Technora® is a para-aramid fiber whose commercial production was started by Teijin in 1987 leveraging their proprietary technologies. The new synthetic fiber has high strength and elasticity, while also being resistant to heat and chemicals.
Technora® is a fiber consisting of copolymers and produced by a process different from that of polyphenylene terephthalamides (PPTA) fiber.
Because of its properties such as high strength, high elasticity, as well as resistance to chemicals, abrasion and flex fatigue, Technora® is primarily and widely used for industrial applications including rubber reinforcement.
Chemical structural formula of Technora®
Copolyparaphenylene / 3.4' oxydiphenylene / Terephthalamide
General properties of Technora®
| | |
| --- | --- |
| Color | Gold |
| Density | 1.39g/cm3 |
| Monofilament diameter | 12μφ (Circular) |
| Tensile strength | 24.5cN/dtex |
| 〃 | 347kg/mm2 |
| Tensile elasticity | 530cN/dtex |
| 〃 | 7500kg/mm2 (74GPa) |
| | |
| --- | --- |
| Fracture elongation | 4.5% |
| Decomposition temperature | Approx. 500℃ |
| Combustion heat | 6800cal/g |
| Specific heat | 0.26cal/g・℃ |
| Limiting oxygen index | 25 |
| Equilibrium moisture content | 2% |
Stress-strain curves of different fibers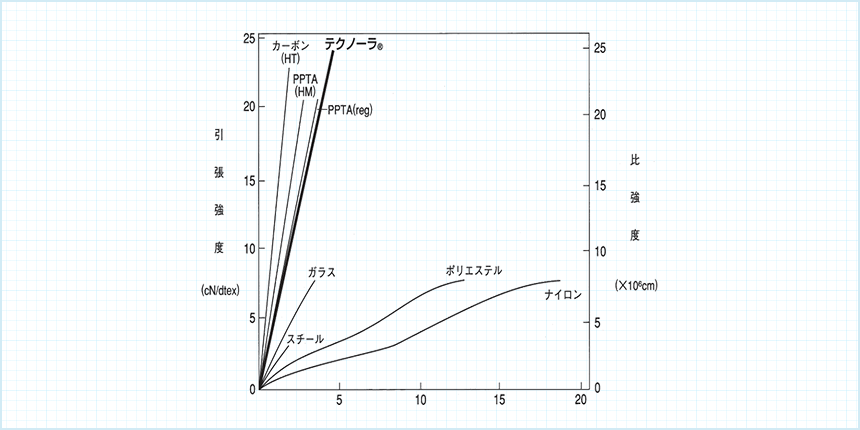 Characteristics of Technora®
High strength

Its tensile strength is eight times higher than steel and three times higher than glass, polyester and nylon of the same weight, offering a much lighter material solution.
Fatigue resistance

While most high-strength fibers are highly resistant to abrasion, flection and stretching, Technora® also exhibits excellent resistance against fatigue.
Dimensional stability

Its rigid molecular structure and highly-oriented molecular chains offer high elasticity, low creep and low stress relaxation which, combined with its resistance to heat contraction and expansion, deliver excellent dimensional stability.
Heat resistance

With the decomposition temperature of approx.. 500℃, it retains more than half of its room-temperature strength at 250℃ and withstand a long-hour use at 200℃.
Chemical resistance

It exhibits high resistance not only to organic solvents but also to both acids and alkalis. It also has stability against sea water and humidity, withstands 180℃ moist heat and is highly resistant to hydrolysis.
Acid resistance of Technora®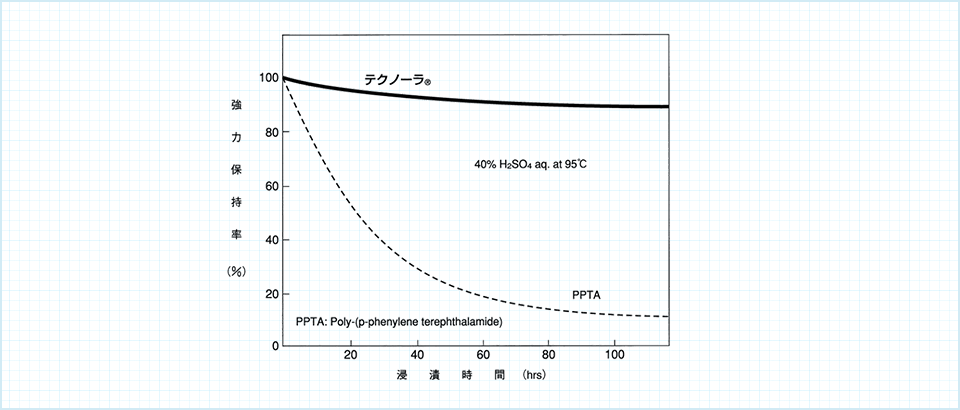 Alkali resistance of Technora®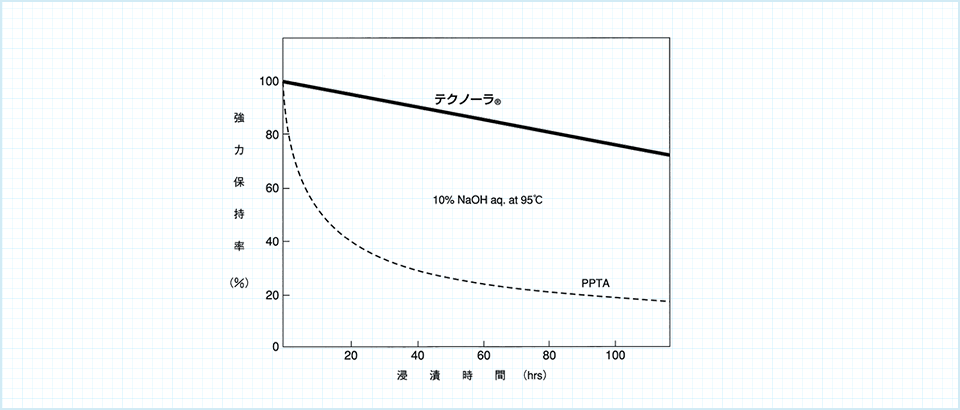 Heat moist resistance of Technora® (against 120℃ saturated water vapor)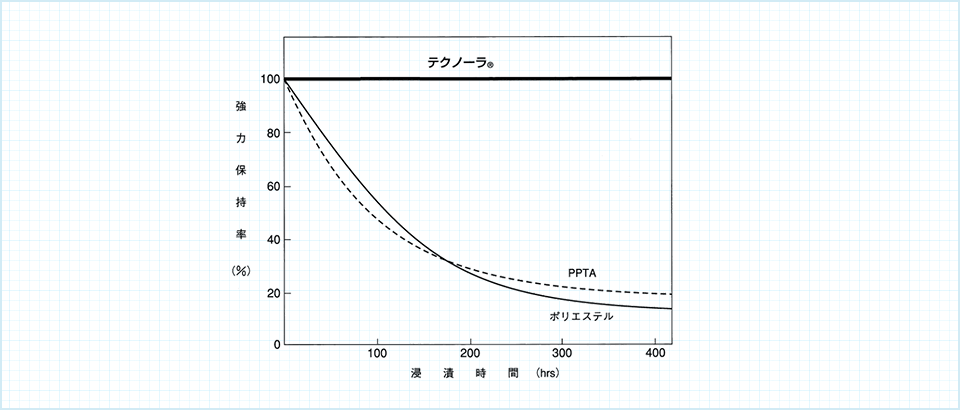 Wear and fatigue resistance of Technora®
Unit
Technora®
PPTA
PET
Testing method and conditions
Friction resistance
between fibers
Times
360
130
1600
[Orthogonal friction test]
Load: 0.18cN/dtex
against a chrome plated pipe
Times
790
200
4000
Flex fatigue
strength retention rate
%
52
36
99
[Roller flex test]
Diameter ratio: Roller/Fiber = 11/0.7
Load: 0.53cN/dtex
Technora® is a registered trademark of Teijin.